Tubular Coils
ALITER-AXI is a leading company in the field of design and fabrication of tubular coils for oil refining, gas processing and chemical industries.
Our Design Department designs coils of any complexity: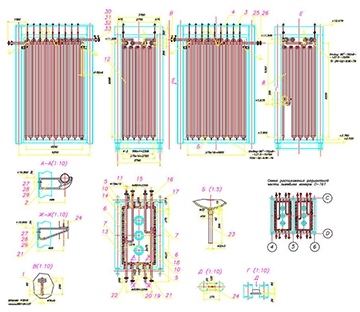 We design tubular coils of fired heaters and reaction furnaces in accordance with Russian standards, in particular GOST R 53682-2009 (ISO 13705:2006) "Fired heaters for refineries. General technical requirements", RD 26-02-80-2004 "Welded coils for fired heaters. Requirements for design, fabrication and delivery". Calculation is performed according to RTM 26-02-67-84 "Methods of strength analysis of pressurized heater elements".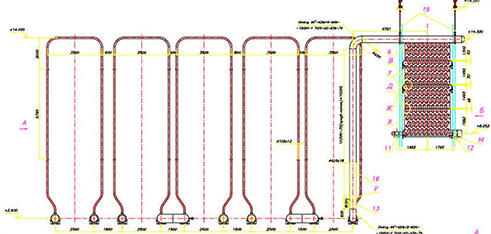 We design coils of steam reforming furnaces of Hydrogen Production Plants, heaters of nitrogen industry, pyrolysis furnaces according to Russian standards, in particular: RD 3689-002-00220302/31-2008 "Welding of radiant tubes and their elements for reaction furnaces. Main principles", RD 3689-001-00220302/31-2004 "Radiant tubes and their elements for reaction furnaces. Requirements for design, fabrication and delivery".
The coils are manufactured in our own workshop, located in the territory of Izhora Plants. Coil Production Group includes:
Engineering and Manufacturing Department that prepares shop drawings, controls the production process, purchases materials: tubes, elbows, sheets, etc., and develops loading plans and slinging diagrams for transportation;
Foundry shop;
Machine and machine-assembly shops  that prepare tubes and elbows for welding , fabricate fasteners, flanges, nozzles, peepholes, etc.;
Non-Destructive Testing Laboratory. The Laboratory, its equipment and all employees are properly certified.
The Laboratory carries out both X-ray tests and Ultrasonic tests.
Coil production cycle includes several sections:

Preparation and preassembly;
Welding: electric arc and argon arc;
Heat treatment;
Hydrostatic testing;
Assembly;
The product is inspected and accepted by qualified personnel of the QCD Laboratory;

Finished products are shipped by rail or by road. It is also possible to deliver goods by air or by sea from the whole water area of the Big port Saint Petersburg.
Types of Coils and Their Components
Radiant coils, horizontal sections, vertical coils, manifold coils, helical coils, reformer and DCU tubes, convection coils, assembled convection modules, convection coil bundles.
In manufacturing of convection coils we use bare tubes, finned tubes, and also studded tubes made in-house.
Coils almost always include manifolds. ALITER-AXI fabricates manifolds of any complexity:
Product inlet/outlet manifolds;
Lined manifolds of Hydrogen Reforming.
Horizontal sections
Vertical coils
Manifold coils
Helical coils
Reformer and DCU tubes
Assembled convection modules
Studded tubes
Product inlet/outlet manifolds